Campagne tegen Wapenhandel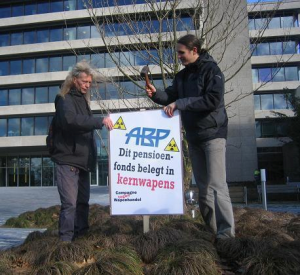 In the Netherlands, public pressure fuelled by media and NGO reporting, has been quite successful in setting new standards for social responsible investment. Almost all Dutch pension funds by now exclude investments in anti-personnel landmines and cluster munitions. Many funds also exclude investments in nuclear weapon companies. Unfortunately, the largest Dutch pension fund, ABP is not among those. Instead, ABP – a pension fund for government employees – invests hundreds of millions of dollars in nuclear weapon companies.
ABP distinguishes between 'controversial weapons' and 'forbidden weapons'. It advertises on its website that it does not invest in controversial weapons such as land mines and cluster munitions, but it greenwashes its investments in nuclear weapons by saying that while the weapons are highly controversial, they are not forbidden.
The Campagne tegen Wapenhandel (CtW, Dutch Campaign Against Arms Trade) has over the past years run a targeted campaign to end ABP's involvement in nuclear weapons. And with some success. Press releases are often picked up by the media and regular reports on Dutch pension fund investments in nuclear weapons receive a lot of attention in the media and on social media networks.
It has forced ABP to explain itself on its website. ABP writes: "Nuclear weapons fuel a lot of discussion…. That is why ABP needed an objective framework to assess in what the pension fund does and does not want to invest. The fund is following the line of the Dutch government."
For the Campagne tegen Wapenhandel, referring to government policy as an 'objective framework' does not acquit ABP from its own corporate responsibility. By choice, ABP continues to invest in weapons of mass destruction, which runs directly against the funds claim to behave socially responsible. CtW's Mark Akkerman explains: During our campaigns we found that people are baffled and angry about these investments, especially if they realize this concerns their own pension money. Many people have written their pension fund to voice their concerns. In 2012, we got over a thousand signatures in a card campaign targeting pension funds investments in the European nuclear weapons producer EADS. In November 2012 we visited the ABP, right after it increased it's nuclear weapon investments by almost 50%. In a hit and run action we put signs in front of the main entrance saying "This pension fund invests in nuclear weapons". Photo's of this naming and shaming were widely shared on Facebook and picked up by several newspapers.
In 2012 as well, the board of ABP toured the country to meet with local participants . At several meetings, the board members were confronted with critical questions about or banners against their nuclear investment policy. So far ABP has stubbornly held on its investments in nuclear weapon companies….. but public pressure is mounting.