With a public meeting at the Ediburgh Peace and Justice Centre on 16 November, the Scottish campaign to divest from nuclear weapon producing companies was launched.
The Scottish campaign is supported by a broad range of civil society groups including Edinburgh Peace and Justice Centre, Edinburgh CND , Medact, Friends of the Earth Scotland, Global Justice Now, Edinburgh University People and Planet and ICAN UK.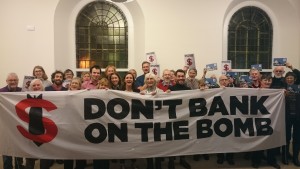 During the meeting, the 2015 Don't Bank on the Bomb report was presented by the Dutch authors of the report. Rebecca Sharkey of ICAN UK explained the link with the international efforts to prohibit nuclear weapons, including investments in nuclear weapon producers. Campaigners discussed ways to engage in a campaign in Scotland.
Brian Larkin of the Edinburgh Peace and Justice centre said "Based on evidence presented in the report, activists worldwide are calling on financial institutions to stop any investments into weapons of mass destruction, and on governments to ban nuclear weapons once and for all."
One target of the campaign will be the Royal Bank of Scotland, which is the UK-based biggest investor in nuclear weapon producing companies, and heavily involved in Trident.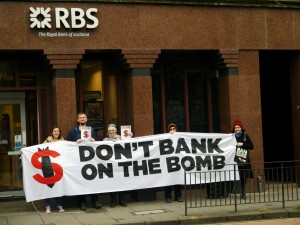 Scottish parliamentarians are also engaged, and will campaign to make their own pension fund divest from Rolls Royce (also engaged in Trident). On 17 November, a parliamentary meeting organized by Bill Kidd MSP (Scottish National Party) and Briak Larkin (Edinburgh Peace and Justice Centre) brought together campaigners and members of the Scottish parliament to discuss divestment from nuclear weapon producers. Attendees included Members of the Scottish Parliament Bill Kidd (SNP), John Finnie MSP (SNP) , Patrick Harvie (SNP). Presentations by ICAN UK, MedAct and PAX addressed the issue that while the Scottish public, the Scottish Church and virtually all Scottish political parties are unequivocally opposed to Trident renewal and nuclear weapons in general, the biggest Scottish banks continue to invest billions of Pounds in the companies producing such weapons.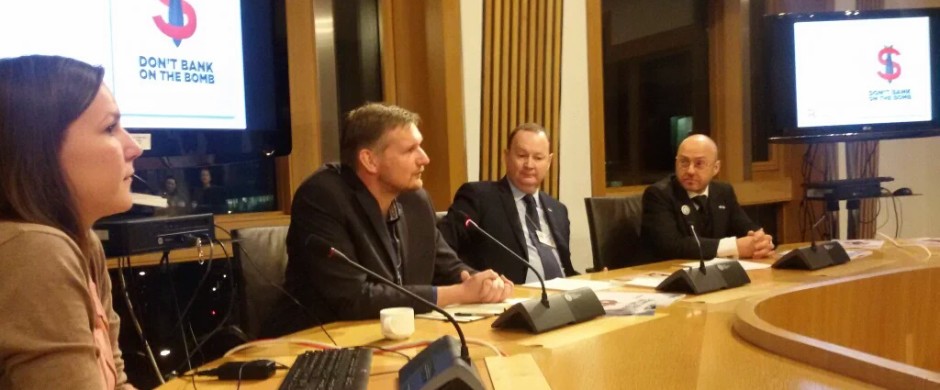 For a more detailed report on the meeting, click here!