German campaigners at Commerzbank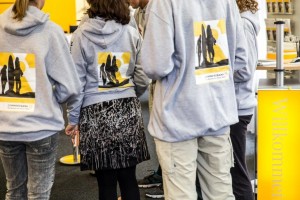 On the occasion of the 100th anniversary conference of the International Fellowship of Reconciliation campaigners held a protest at Commerzbank in Konstanz.  Commerzbank is the second largest investor in nuclear weapons components and delivery systems in Germany. Nobel Peace Prize laureate Mairead McGuire took part in a die-in in front of the bank, while Right Livelihood Award winner Alyn Ware joined the jogger group that entered the bank with a letter to the chair of the Commerzbank board. 
You can find more photos of the event here, and more information here.